The whole team of NGe inc. is back with the craziest rollercoaster ride for all u RAP music fans.
...NGE inc. PRESENTS THIS NOVEMBER
HI DEF HIPHOP FESTIVAL
ALBUM EDITION
...
This concert is dedicated to the 2 albums released through the coordination of NGe inc. and published through FAHIM MUSIC.
T.O.D. - DESI HIPHOP
HIPHOP 101 ( THE MIX ALBUM)
The Concert shall revolve around these 2 albums. And few added attractions are always there.
ThE RAP CONCERT(LINE UP):
1) T.O.D.
2) T.J.
3) PRY SHUNNO
4) FAZZE
5) SHIB B
6) LYRICAL ASSASSINS.
7) G.U.R.U.

FLY-O-LOGY
9) R.P.S.
10) 99 FURIOUS
11) T.H.
12) D.I.E. SQUAD
FEATURED RAP CREWS:
1) DNA
2) C.B.G.
3) CATACLYSM
13) A.J. Rap$ta (Collaboration with Spitfire)
SPECIAL PERFORMANCE:
1) PROJECT FREESTYLERZ (HIPHOP DANCING)
2) MR. POET (STAND UP COMEDIAN)
TICKETS ARE OUT
TICKETS FOUND AT:
1) FAHIM MUSIC (ALL OUTLETS)
2) SOUND MACHINE
3) AMERICAN BURGERS (ALL OUTLETS)
4) BURGER WORLD
SPECIAL THANKS TO OUR :
TITLE SPONSOR : CLASSIC FOAMS
LOGISTIC PARTNER: INCURSION MUSIC.
TV PARTNER : ETV
RADIO PARTNER : RADIO TODAY 89.6 FM
WEB PARTNER : AMADERGAAN.com
NEWSPAPER PARTNER : NEW AGE
DATE: 26-11-2010
VENUE: RUSSIAN CENTRE OF CULTURE AND SCIENCE
TICKETS PRICE: BDT 200
FOR MORE INFO CONTACT : 01670756638/01735577511/01911954085
STAY CONNECTED TO THE EVENT......
mORE DETAILS COMING SOOOON........... [img]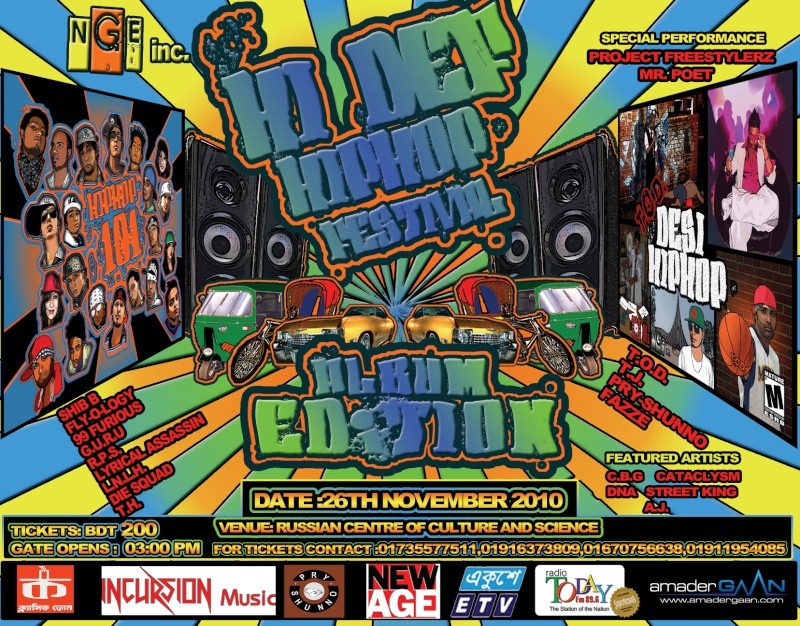 [/img]